Welcome to Sugito Dental Clinic
Welcome to Sugito Dental Clinic, which is located in Konan, Aichi.
It takes 10 minutes from Konan station of Meitetsu Inuyama Line
121 Otsuka, Miyausiro-cho, Konan, Aichi, 483-8044
---
At our clinic, English is available.
Please contact us by E-mail if you have any questions.
We have an appointment system.
Please contact our clinic by phone (0587-55-6635) or E-mail.
Specialties
General Dentistry, Pediatric Dentistry, and Oral surgery

△Saturday AM8:30~PM2:30
Closed Thursday, Sunday, and National holiday
Takayuki Sugito D.D.S, Ph. D.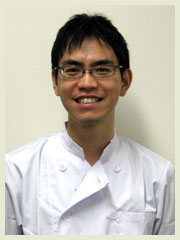 Education:
1993-1999 Faculty of Dentistry, Aichi Gakuin University
Awarded the degree of BS in dentistry
2000-2004 Department of Oral and Maxillofacial Surgery
Nagoya University Graduate School of Medicine
Awarded Ph. D in Medicine
Work experience
1999-2000 Department of Oral and Maxillofacial Surgery
Nagoya University Graduate School of Medicine,
working as a Resident
2004-2007 National Institutes of Health in USA, working as a
Visiting Fellow
2007-2010 Aichi Cancer Center, Hospital and Research
Institute, working as a Locum Dentist
2008-2010 Nagoya University Graduate School of Medicine,
working as a Research Fellow
Membership of learned societies:
Japanese Society of Oral and Maxillofacial Surgeons